Kitchen Exhaust System Cleaning In Cincinnati, OH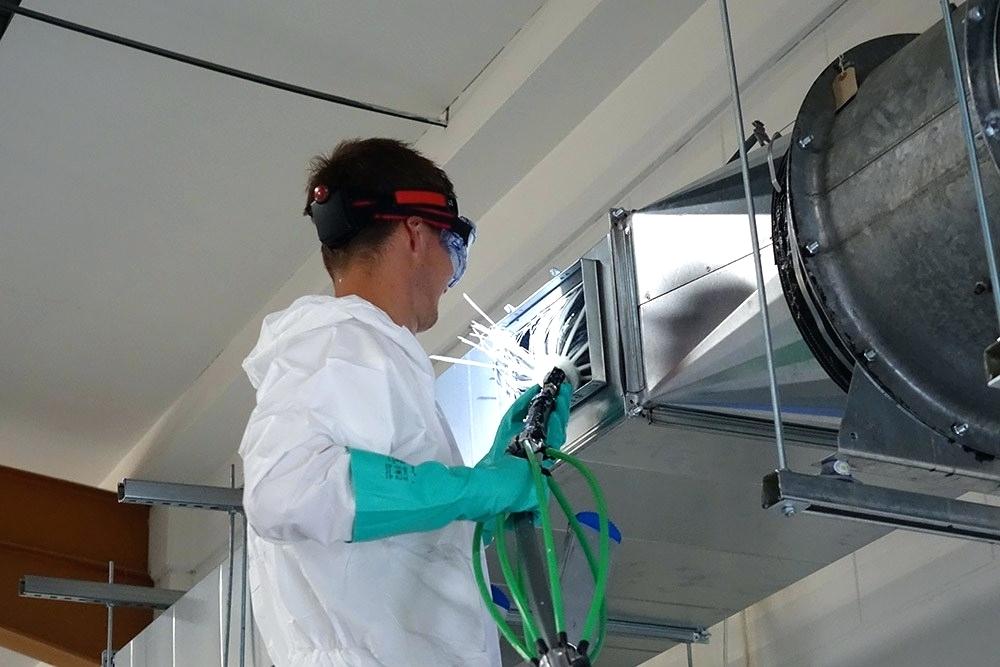 We have an idea of what you need when you are searching kitchen exhaust system cleaning online. You're trying to find the most effective kitchen exhaust system cleaning service in Cincinnati, OH. Well, today is your lucky day!
You have stumbled upon a web page offering exhaust hood cleaning in and around Cincinnati.
Keeping your kitchen and the restaurant exhaust hood clean is incredibly crucial for your company. Besides the fact that restaurants are required to follow local regulations, a defective, or filthy exhaust system can send your dining establishment up in fire, receive a low score from inspectors, or cost you great deals of cash in repair work.
We can make things so much better for you. Get in touch with us now!
What does our kitchen exhaust system cleaning consist of?
A kitchen exhaust cleaning solution provided by Shiny Hood will definitely eliminate your worries of scoring low during the inspection. We offer exceptional commercial kitchen exhaust hood cleaning that begins with a detailed investigation of your system.
Arrange a consultation with our specialist and we'll make sure your kitchen exhaust system will be squeaky clean. During our meeting, we will determine the scope of the project, estimated cost, and other requirements.
Once you decide to hire Shiny Hood, you can expect our team to provide a high-quality job.
A complete evaluation of your kitchen area exhaust hood system.

Analysis of the possible threat aspects that your kitchen exhaust system could have.

Pressure cleaning and heavy steam cleaning to get rid of dirt and bacteria.

Use of only FDA-approved chemical cleaning supplies for sanitizing the kitchen exhaust system and other equipment.

Perform repair and maintenance, as required. 

Shiny Hood will not simply perform a job that you do not need or did not consent to. We will not do anything that will shock you at the end of the day.

Consideration for your business, employees, and patrons. We will schedule the best time and date to perform the exhaust cleaning with your schedule in mind.
How exactly can you know when it is time for a restaurant exhaust hood cleaning?
Your industrial kitchen exhaust fan cleaning schedule relies on the intensity of food preparation you do and what your insurance coverage demands. Some dining establishments need exhaust fan cleaning every 90 days, while others can go as long as a year before they would need a professional hood cleaning.
A lot of times insurance providers or the community board of health and wellness will order a kitchen exhaust system deep cleaning. Contact your insurance company and office of the inspector if you are unsure of the requirements you must fulfill.
Pass your next kitchen evaluation with flying colors. Worry no more about the grease build-up and other hazardous debris that could potentially lower your score. We will handle the sticky mess for you.
Shiny Hood will make your kitchen shine
Sometimes wiping the kitchen equipment including the kitchen exhaust system is not enough. You need a professional hood cleaning company in Cincinnati, OH who has the right skills and tools to make the kitchen exhaust system look brand new.
We are a team of highly trained professionals. Our restaurant exhaust cleaning has helped numerous local businesses and residential homes. There is no doubt we are prepared to tackle your needs.
Many of our customers have been blown away by the value they got from our kitchen exhaust system cleaning services. We want to help you too!
You are looking for the finest kitchen exhaust system cleaning in Cincinnati, OH. We can deliver that!
Our professionals can effectively clean your industrial cooking equipment and exhaust system, which are incredibly essential in running your business. With our expertise and exhaust system cleaning solution, you will get high points in your next inspection.
We're Here Whenever You Need Us